Conforma Clad has a long history of extending the life of critical components for the Petrochemical industry.
Delayed Cokers, FCC units and ethylene producers have all taken advantage of the benefits our range of materials offer to solve corrosion and erosion issues. Conforma Clad offers both Stellite and Tungsten Carbide cladding to suit the particular application.  
The Challenge:
Refineries process some of the world's  most aggressive fluids and slurries. In these environments pump life can be severely limited by extreme erosive and corrosive wear, leading to increased maintenance costs, reduced reliability, and increased downtime. Certain pumps within the refinery are  exposed to particularly demanding conditions. It is this subset of pumps where our customers have found Conforma Clad™ protection is most required.
Bottoms Pumps
Residual Oil Pumps
Coke Drum Charge Pumps
Coke Pit Pumps
FCC Charge Pumps
Slurry Pumps
We have experience cladding a wide range of pump configurations and sizes:

Overhung API Pumps
Between Bearing API Pumps
Custom Configurations
Pump impeller after 13 months without Conforma Clad protection
What We Offer:
Tungsten carbide cladding protecting all wetted pump surfaces 
Final finishing of cladding to achieve dimensional requirements
Collaboration with pump OEM  to meet required specifications
Longer pump life and increased mean  time between repair/failure (MTBR/MTBF)
Cladding Technology
Kennametal Conforma Clad™ are pioneers of infiltration brazed tungsten carbide cladding and have been solving challenging industrial wear problems for over 30 years. Our technology is a result of many years of development and engineering expertise, and customers rely on our cladding when the most critical equipment needs to run longer and more reliably.

Cloth-Based Cladding Process
Our cladding technology is based on a unique cloth-based delivery system. This proprietary process is used to create a flexible cloth comprised of the required binders and tungsten carbide particles. In its flexible "green" state the cloth can be evenly applied to surfaces such as pump cases and impellers. Parts are treated in a vacuum furnace where a nickel chrome braze alloy forms the cladding matrix and creates the metallurgical bond with the substrate. The result is a cladding that combines  the hardness of tungsten carbide with the corrosion resistance of nickel chrome to create a protective barrier with unmatched  wear-resistant properties.
Conforma Clad™ Process Benefits
Flexibility to clad complex surfaces.
Controlled cladding thickness across entire surface.
Uniform carbide distribution.
Metallurgical bond.
Cladding Performance
Conforma Clad™ technology delivers full protection for all wetted pump surfaces. Pump cases and impellers with  complex geometries and non-line-of-sight features can be challenging to reach and fully protect by other methods. 
Our ability to access and protect all pump surfaces with a metallurgically bonded,  dense layer of tungsten carbide sets us  apart from other technologies.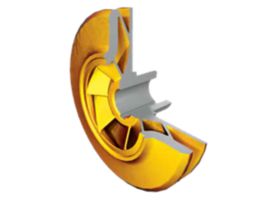 Specifying Conforma Clad for your pump represents a significant improvement in wear resistance. Our cladding grades offer 2–3 times the erosion and abrasion resistance of competitive overlays. These superior properties make a substantial impact on the life of your pump.
Our cladding grades have been designed to protect your critical equipment from multiple modes of wear, including abrasion, erosion, corrosion, and combinations of these.
UltraFlex™ Radiant Return Bends for Delayed Coker Furnaces
Decoking operations, such as on-line spalling, can have a significant impact on the life of radiant return bends in delayed coker furnaces. UltraFlex technology  delivers a Stellite™ 720 cladding designed to significantly reduce the risk of return bend wall thinning and rupture.
The UltraFlex Cladding Process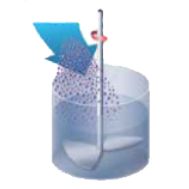 1. UltraFlex cladding material is prepared in slurry form. Stellite 720 is used for return bend applications.
2. Proprietary flow-coating methods are used to apply an even "green" cladding, typically .020–.030" thick.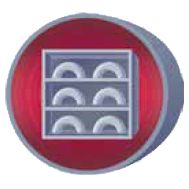 UltraFlex cladding material is prepared in slurry form. Stellite 720 is used for return bend applications.
Metallurgical Bond
No flaking or spalling — even in extreme conditions.
Thermal fatigue testing simulating 20 years of service confirms no defects or spallation.
A "Pure" Coating
Small diffusion zone (<.010") compared to hard facing.
Consistent wear properties from bond through to surface.
Typical thickness is .020–.030"
High Surface Quality
Smooth surface accommodates pigging operations.
Crack-free coatings possible with many substrates.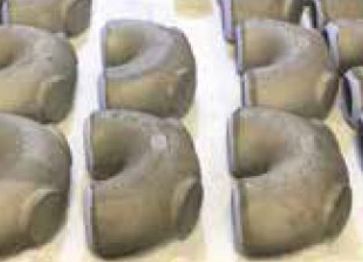 Clad Return Bends Ready for Sintering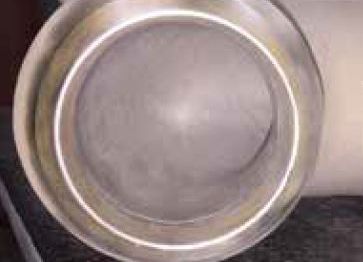 Return Bend Ready for Installation
Hard Facing vs. UltraFlex Cladding
Conveyance
Protect your conveyance lines with Stellite or Tungsten Carbide to solve corrosion, erosion or abrasion wear problems.  Our metallurgically bonded cladding is compatible with a wide range of substrates and can be applied in very small inside diameters or unreachable areas.  
Delayed Coker Return Bends
Catalyst Withdrawl Lines
Elbows, Piping
Find out more about how our UltraFlex cladding process can protect your critical conveyance components from wear.
Range of Cladding Materials