Our Cladding Process
Kennametal Conforma Clad has significant advantages over conventional welding and thermal spray hardfacing processes:
Conforma Clad is applied via a vacuum furnace braze infiltration process, resulting in much lower dilution and eliminating the need for multiple passes.
The cladding process results in a coating densely loaded with tungsten carbide particles, offering substantially higher erosion/abrasion resistance-to-weight ratios.
The process produces a metallurgical bond, with bond strengths over 70,000 psi, or 5-10X the bond strength of mechanically bonded thermal sprays.
With over 20 years of experience in custom solutions for Oil and Gas, Power Generation, Plastics and Pet Food Extrusion, and General Industrial markets, Kennametal Conforma Clad offers proven solutions in applications that experience high wear through abrasion, erosion, impact, corrosion, and combinations of these mechanisms.
Our cladding process begins by mixing powdered tungsten carbide and other metals with organic binders, according to specific cladding formulas.
The materials are rolled to a predetermined thickness and density, forming a flexible cloth that maintains a uniform weight and readily conforms to complex geometries.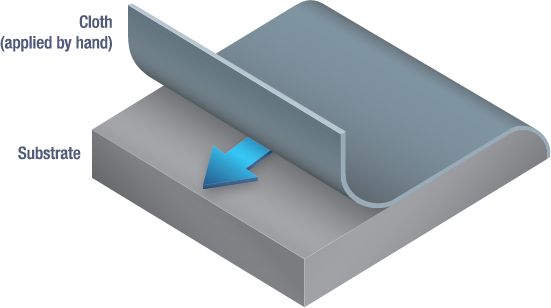 The cloth is then cut to shape and applied to metal components with a low temperature adhesive.
The clad component is placed in a furnace and heated above the melting point of the hardfacing alloy. The molten alloy wicks down into the layer of tungsten carbide particles, metallurgically bonding the hard particles to the component and forming the Conforma Clad cladding.
When brazing is complete, the components are finished to your specifications.